Welcome to EnjoyHiltonHead.com!
Looking for fun things to do, cool places to stay, top guest services and the best sites to see during your next vacation to Hilton Head Island? Well, you've come to the right place for all of the "must know" facts, details, guest services and information about what to do when you stay, play and enjoy Hilton Head Island, South Carolina!
EnjoyHiltonHead.com will not only give you great ideas about all of the best and most popular Island activities, attractions, and "must see places" to visit during your vacation, but will even recommend trusted retail partners that can offer you some great discounts to use as well.
The preservation of the natural habitat of the Island sometimes makes it difficult to find everything you are looking to do. No worries, that's what we are here for! Our trusted travel professionals are here to help you get exactly where you want to go! We have been on the Island for more than 15 years, and as locals and experts in the travel industry, you can be sure that we are recommending only merchants that we trust and use ourselves.
EnjoyHiltonHead.com is not just a referral service; look at us as your personal concierge for Hilton Head Island! We are always here to lend a helping hand with ideas, maps, a vacation guide, interesting articles about the Island, and many other resources available to you to help make Hilton Head the perfect vacation destination for you and your family. So go ahead, look around, and if you see something you like, click on it! If you have any questions at all, give us a call at 888-741-7666. We are real people with real solutions for helping you make the best of your vacation time in Hilton Head Island, SC.

There's nothing quite like spending a summer day on beautiful Hilton Head Island! Summertime is always so much fun on the Island and there are so many "fun in the sun" activities to choose from, you may have a hard time deciding exactly what to do each day! The summer months in Hilton Head, from June through August, bring hot, sunny, perfect beach weather days with temperatures averaging around 89 degrees and a balmy 72 in the evening. The Island has a fairly humid climate and with the cool ocean breezes, even the hot days are very enjoyable.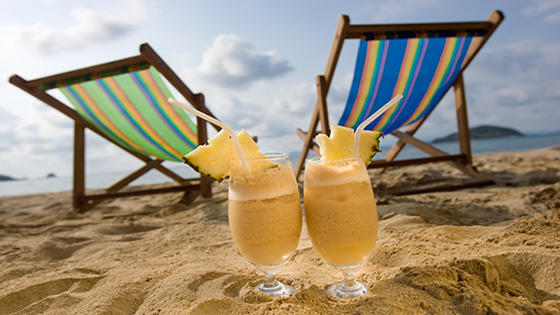 One of the best things about a summer vacation on Hilton Head is that you can do as much or as little as you want to during your visit to the Island. For those seeking adventure, take a dolphin cruise, explore our wildlife refuge and hiking trails, go parasailing, or visit nearby Daufuskie Island. Sports lovers will enjoy our championship golf courses, award winning racquet clubs and a friendly game of beach volleyball behind the "Tiki Hut" on South Forest Beach. When you're ready to relax, you can spend the day lounging at an oceanfront pool or splashing in the calm waters of our pristine sandy beaches! The opportunities and fun never ends! Summer is also a great time to take part in one of our many Island events and festivals. Popular summer festivities include HarbourFest, which features live entertainment seven nights a week, plus food, arts and crafts, fireworks and other activities, The July 4th Independence Day Celebration, Shannon Tanner's Interactive Family Friendly Shows every night at Shelter Cove Harbour, The Hilton Head Art Festival, The Summer Jams at Shelter Cove Park, and The Summer Exploration Series at the Coastal Discovery Museum. Summertime also means that all of our waterfront restaurants and beach beach bars are open with nightly live entertainment and excellent local seafood.


Hilton Head, South Carolina rates #9 - 2,040 vacation rentals on TripAdvisor - A fabulous beach destination for the entire family, Hilton Head offers a relaxing place to escape with miles of pristine sand, 24 top-notch golf courses, upscale shopping and outdoor activities galore. Potential Vacation Rental Savings: $2,000 for a weeklong trip.

Our first visit to Hilton Head was the week after Christmas. The weather was perfect with daytime temperatures in the upper 50's and 60's with a light jacket being too much on some days. However, once the sun disappeared, it quickly turned chilly. We loved walking on the beach and caught an awesome sunset one evening. As the sun swiftly disappeared, the ocean and sand glowed a soft pastel pink with the baby blue colored sky separating the two ever so graciously. We stopped to photograph the great blue heron standing at the water's edge and the two dolphins swimming close to the shoreline. It was the perfect ending to a perfect day. Hilton Head's beaches are extremely wide and flat, which makes it a great place for flying kites, throwing Frisbees, walking, biking, running, or just simply sitting and relaxing. The thing we loved best about was the fresh seafood, the cleanliness of this upscale beach area and the lack of tacky neon t-shirt stores. - Lovestogo, Danville, Kentucky