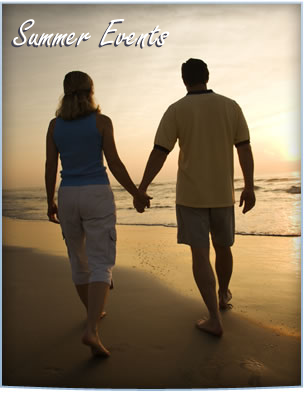 Movies in the Park For more information, call 888-741-7666 or go to www.islandreccenter.org.
HarbourFest - Nightly activities at Shelter Cove Marina for the whole family including music, festivities and Tuesday night fireworks. Admission is free!
The 4th Annual Italian American Heritage Festival- Held on September 21st, the Italian American Heritage Festival celebrates the rich heritage of Italian Americans with great food, music, games, and competitions. Admission is $5 and food and drinks are sold seperately.
Gregg Russell Concerts Under The Liberty Oak - Hilton Head celebrates the sounds of Gregg Russell who has provided music under the Liberty Oak in Harbour Town for 37 years! Although there is a $5 gate fee to enter Sea Pines, his concerts are free every Sunday-Friday night from 8-9:30pm.
Hilton Head Comedy & Magic Club- Located on Broad Creek in Shelter Cove Harbour, the Kingfisher is an island institution with affordable and delicious waterfront dining. They host family magic and comedy shows which include learning magic tricks and a take home magic kit for the kids at the Hilton Head Comedy & Magic Club located at the Top of the Kingfisher in a private showroom. Showtimes vary.
Harbour Town - Harbour Town will celebrate Independence Day with a variety of festivities including live music, kid's activities, food and beverage and, of course, fireworks! A barge in Calibogue Sound will launch the fireworks at dusk a little after 9pm. Unless you are staying in Harbour Town, there is a $5 gate fee to enter the resort but a free shuttle service will be offered between Harbour Town and Sea Pines.