The Sandbox is a hands-on interactive museum filled with unique entertaining, and educational play areas to explore. Children can sail away on Captain William Hilton's ship of discovery or find their Passport to the World in the international airport terminal with a plane ready for little pilots to fly. Explore our web site to see some of what The Sandbox has to offer!

The admission is $6 for adults and children two years and older.
Children under two years old are free.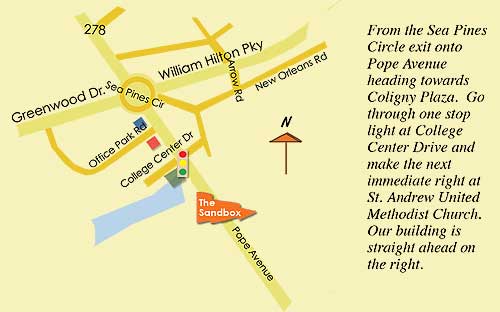 ________________________________________
January, February, March, May, September,
October, November, December
Tuesday - Saturday, 10:00am - 5:00 pm
________________________________________
April, June, July and August
Monday - Saturday, 10:00am - 5:00pm

SUMMER STIMULUS SATURDAYS FOR LOCALS

Our Saturday admission fees are being rolled back for locals
throughout the summer.
Present a valid driver's license with a "299" zip code to take advantage of our original grand opening pricing of $5 per person (kids under 2 are still free).
Valid Saturdays through August 29th.

Some of our Education Play Areas:

Charlie's Perfect Playplace

Charlie's Perfect Playplace is a gated area specifically designed for infants and toddlers visiting The Sandbox. The children can enjoy crawling and sliding on their own play gym built just for their size and maneuverability. There are also wall mounted toy panels that capture their young mind and age appropriate toys and books.

Key educational components;

Infants and toddlers enjoy playing in this colorful and charming atmosphere while learning eye-hand coordination and improving their gross and fine motor skills. The play space is also designed to encourage group play and interaction with other children.

Passport to the World

Little pilots fly the friendly skies in the international airport terminal with a plane complete with pilot, co-pilot and passenger seats. Pilot costumes fuel the imagination as children navigate their take-off and landing complete with sounds to add to their experience. They can maneuver the throttle of this real jet and listen to the directions from the flight town through their captain headphones.

Key educational components;

While children are flying they are fueling their minds through imaginative play. This process of mimicking the big world gives them a glimpse of real life experiences. They practice developing their fine motor skills while maneuvering switches and throttles throughout the cockpit.
Track the T-Rex

Children can climb across three secured rock climbing units. The molded panels feature three dimensional rock formations with embedded fossils. It provides the feel of prehistoric dinosaur times.

Key educational components;

The Climbing wall provides kids the experience of climbing without scaling high above the ground. It also gives them the opportunity to traverse a Rock Course using strategically placed hand and foot holds that keep climbers close to the ground, but still gives the thrill of climbing all the while developing their gross motor skills and decision making skills. The climber who makes it successfully to the end of the course lands next to a wall painted T-Rex. He can then reach and push a button that will make the T-Rex roar in defeat of his capture.