Dining on Hilton Head Island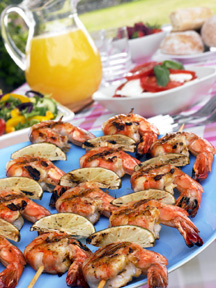 Island of Hilton Head is home to more than 250 restaurants! There are so many great places eat on Hilton Head Island that it makes a hard decision for even the locals to decide what's for dinner!
Whether it's romantic waterside dining for two, a fun-filled restaurant that the kids will enjoy, a place with pub fare where you can watch the fishing boats come in, a traditional Low Country dinner while watching the sunset or seaside dining in a friendly bistro under a brightly colored umbrella, you'll find that nothing compares to the taste of an Island vacation.
Hilton Head restaurants offer a taste of everything under the sun including French, German, Italian, Caribbean, Japanese, Greek, Chinese, Thai and Mexican, along with all-American fare like pit-cooked barbecue and prime grilled steaks. And, of course, what Hilton Head Island vacation would be complete without sampling the famous local seafood: succulent shrimp, sweet blue crab, briny oysters and home-style Southern Low Country specialties?
When dining on the Island, you need to remember that seating times are much longer during the peak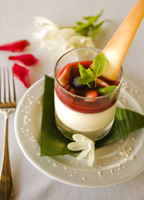 season (summer). Once you arrive at a restaurant, it is a good idea to stay put. Often times, guests will consider leaving due to the long wait but will find themselves in the same situation somewhere else. It is best to just grab a drink, relax with the family, and wait it out! Sometimes a little wait is a great indicator that you have come to a great restaurant!
Take a look around EnjoyHiltonHead.com's restaurant listings and be prepared to be impressed with the wide variety of options for breakfast, lunch and dinner to choose from during your visit to Hilton Head Island. Bon Appetit!

Hilton Head Restaurants
Alexander's Seafood Restaurant

Located on a picturesque lagoon in Palmetto Dunes, Alexander's has been an Island tradition since 1977. Choose from over 100 hand selected wines to compliment the freshest seafood and hand trimmed steaks and enjoy the vintage Harley Davidson collection. This Island restaurant boasts one of the best technical chefs on the Island, and its food reflects his abilities.
Alligator Grille

The Alligator Grille has a three-diamond rating by AAA and has been awarded the Wine Spectator Award of Excellence since 2004. The urban environment strikes you the moment you walk in as cutting edge and uptown as well as comfortable and relaxing. The menu focuses around the freshest sustainable fish choices available, organic and free range meat and poultry selections including novel food items such as farm raised alligator! The bi-level main dining room affords a view of the open kitchen to witness the excitement of the chefs in action as well as the local artists' canvases displayed on the expansive walls.

Antonio's Italian Cuisine

Authentic housemade pasta is around the corner at Antonio's Tuscan-style family restaurant. The popular AAA Four Diamond Award, Wine Spectator Award of Excellence restaurant serves Italian-Mediterranean cuisine. Warm and inviting atmosphere, friendly staff. Antonio's staff takes pride in enhancing guests' dining experience and offers an extensive wine list and a new "Tapas" bar menu featuring smaller portions of its entrees, which include the fine fresh beef, seafood and a wide variety of pastas.

Aunt Chilada's Easy Street Café

Aunt Chilada's, located on Hilton Head Island for 13 years, genuinely serves something for everybody. In addition to a broad range of traditional "American" fare, it also served excellent Mexican and Tex-Mex cuisine, great steaks, Italian cuisine and more.

Beach Club & Surfside Grill

At Surfside Outdoor Oceanfront Restaurant & Bar, located on North Sea Pines Drive, come as you are and enjoy a full menu of burgers, seafood, and other island favorites. With a large selection of child-friendly fare, why not extend their day at the beach? Serving up live entertainment seasonally, Hilton Head Island's only outdoor oceanfront restaurant invites you to live it up island-style and take home the memories you came here to make.
Bistro 17

Excellent French bistro-style cuisine in one of the Island's most charming locations. Crisp white tablecloths, a huge wooden wine rack, and pleasant, intimate premises indoors. Spacious outdoor patio directly overlooks beautiful Shelter Cove Harbour. Everything "is made from scratch, including dessert." Pets welcome to dine on the patio and they even have their own doggy menu featuring Lucky Dog Cuisine!

Bistro Mezzaluna

The local owners welcome you to a unique dining experience. Savor the Mediterranean Cuisine, where even the soups and famous Homemade Bread are prepared to order! They specialize in veal scaloppini prepared by chefs from hand cut fresh veal. Special Dishes are veal Osso Bucco and a 16oz Veal Chop with a Gorgonzola Demi Glaze. The steaks are hand cut! The chicken entrees are made with fresh chicken (never Frozen) the pasta Dishes are spectacular! Fresh Seafood Daily!

Black Marlin Bayside Grill

Featuring outdoor and indoor dining and the popular outdoor waterside Hurricane Bar. Open daily at 11:30am with dinner served nightly at 4pm and a daily Happy Hour at both bars from 4-7.Weekend brunch is served Saturday and Sunday at 10am.

Cafe St. Tropez

Chef Emmanuel takes great pleasure in introducing French Provencal cuisine to the Island. Café St. Tropez uses only the "freshest and highest quality ingredients" in its state-of-the art kitchen for in-house preparation of everything that is served, including all breads, pastries, appetizers, entrees and desserts. Even the ice cream is made on the premises! The wine list at Cafe' St. Tropez, which features wines from California and France, is extensive.

Captain Woody's

Captain Woody's, at Palmetto Bay Marina, is Hilton Head Island's neighborhood bar and grill. It is the ideal place to come after a day of fishing, sailing or lounging on the beach. Here you'll find nothing but the basic staples of island life: oysters, shrimp, cold beer, beautiful sunsets and good conversation. The atmosphere is relaxed, informal.

Charley's Crab

A popular choice among fine-dining aficionados, Charley's Crab offers the freshest seafood and mouthwatering culinary creations. Combine the award-winning menu with our elegant décor and excellent service, and guests can expect an incomparable dining experience.

Charlie's L'etoile Verte

Charlie's is the only restaurant on the island that writes its entire menu daily based on the freshest local seafood available. The epicurean dinner menu offers an array of 14 fresh fish, Rack of Lamb, Filet Mignon, and many other delights. They offer an extensive wine list that specializes in California Cab's, Oregon Pinot Noir, Rhone Valley, and Bordeaux.
Conroy's Lobby Lounge

A unique experience awaits in this newly-renovated fine-dining restaurant. They offer the best of tastes and textures so revered in the Low Country, and each of the dishes is prepared with creativity and flair by the Sous Chef. Named after the famous Low Country writer, Pat Conroy, dining at Conroy's is an experience our guests savor again and again.
CQ's Restaurant

Inspired by the abundant variety of fresh seafood, beef and game available, Chef Sayers creates signature dishes that are best described as contemporary American with classic French influence. In addition, CQ's is recognized for having the most extensive wine list on Hilton Head Island offering more than 400 wine selections.
Crane's Tavern & Steakhouse Restaurant

Serving only UDSA Prime Grade Beef along with Fresh Seafood, Fish, Poultry and Pasta! Over 100 Years of Family Tradition and Wine Spectator Award of Excellence. Also features a Bar Menu with Burgers, Salads and Sandwiches with Happy Hour Daily 4 - 6 p.m. with 1/2 Off the Bar Menu at the Bar!
Crazy Crab

Welcome to the best Seafood House that Hilton Head has to offer! (In fact there are 2 Crazy Crabs-one at each end of the Island.) Their menu is derived from Low Country recipes, and each entree is individually prepared to order. The Crazy Crab uses the largest fresh Seafood supplier on the East Coast- The Atlantic Ocean! Relax, loosen your belt, and enjoy.
Frankie Bones Restaurant & Lounge

Inspired by the big cities of Chicago, New York, St. Louis and Las Vegas, The Fabulous Frankie Bones Restaurant and Lounge serves classic American-Italian in a an atmosphere reminiscent of times past but never forgotten. An evening of great food to be shared with family and friends.
French Bakery & Courtyard Café

Since opening their doors, the bakery has carried on the great established tradition of French Baking and their dedicated staff has provided local families and businesses with delicious, hand made baked goods. The Café has a cozy seating area, reminiscent of European cafés. Experience all of the finest things Provencal life can bring to the island through their French menu items, baked goods, table linens and artwork.

Giuseppi's Pizza and Pasta

Giuseppi's serves it all, from the traditional pizza, to white pizza, to chicken with roasted red pepper pizza. They offer original style or stuffed. They offer a wide variety of fresh toppings. They offer quality that makes one feel as if he was eating the best pizza on the streets of New York, though the owners of this establishment come from Pittsburgh. Giuseppi's has a large salad menu, including garden salads, Caesar salads, tuna salads, etc., as well as a good variety of sandwiches and pastas. Tis is a perfect restaurant for pizza or a great place to bring the kids.
Harbour Town Bakery & Café

The Harbour Town Bakery & Deli truly has something delectable for everyone. The old-world atmosphere of brick fireplaces, hardwood floors and ceiling fans are charming, and you may choose to sit inside the café or out at an umbrella-covered table in the shade of the oaks. Featuring a variety of breakfast and lunch dishes from Walnut Pancakes to fresh baked specialties to pizza and sandwiches.


Harbour Town Grill

Tucked away in a cozy corner of the prestigious Harbour Town Golf Links Clubhouse, this Hilton Head steak restaurant offers a casual setting overlooking the 9th green of the world-famous Harbour Town Golf Links. There is something for everyone at this "Tuscan Steakhouse" featuring seven cuts of prime steak and nine sides. Don't miss the Chateaubriand for two, which is carved tableside.

Harbourside Café

Harbourside Burgers & Brews is a friendly and casual seasonal outdoor café, nestled in the shade of ancient oaks and offers views the Harbour Town Yacht Basin. There's an extensive beverage menu as well featuring just-gotta-have-em vacation drinks like a Sunset Margarita (and several other specialty margaritas), plus frozen daiquiris and pina coladas in a variety of mouth-watering flavors.

HH Prime

Located in the Omni Hilton Head Oceanfront Resort, the award Winning HH Prime features Prime aged steaks selected from the top 2% of all USDA beef. The steaks are hand selected and dry aged 14- 21 days before chefs create their magic. HH Prime also features the freshest seafood in the region, complemented by selected chef creations and decadent desserts. Hilton Head Island residents voted HH Prime Best Steakhouse, and local chefs named us Chef's Choice for dining on Hilton Head Island. Entertainment on the exterior dining patio or among the four fireplaces makes for the perfect celebration with family, friends and acquaintances.

Hilton Head Brewing Company

South Carolina's first brewpub since Prohibition and the only one on the island, this establishment in Hilton Head Plaza has five specially handcrafted beers. The pub takes on the atmosphere of a bar late at night, but the restaurant offers casual dining for families at lunch and during the evening. The menu has a large variety including hand-tossed pizzas, burgers, steaks, and huge sandwiches and award winning chicken wings!

Hinoki

Restaurant Hinoki serves traditional Japanese dishes such as grilled fish, chicken and steak, Suki Yaki, a variety of noodle dishes, tempura and many daily specials, plus sushi and sashimi. The very extensive menu includes dozens of hot and cold appetizers, several kinds of broiled fish, an excellent selection of noodles and salads, and over 20 entrees from which to choose. Sushi and sashimi may be enjoyed either at the sushi bar or in one of the dining rooms. Reservations are recommended for dinner.

Hudson's Seafood House on the Docks

All tables feature extraordinary views of the Port Royal sound for a truly unique Lowcountry dining experience. Hudson's employs the largest and one of only two remaining fishing fleets on the island which brings fresh local seafood straight from our docks to your table. Share the excitement as our crews unload thousands of oysters, shrimp and soft shell crabs from the day's catch.
Hugo's

A unique yet familiar dining experience, Hugo's is pleased to present to you his personal favorites
prepared fresh daily and cooked to perfection. With only the freshest meats, seafood and
vegetables available, Hugo continues an island tradition of elegance and fine dining in a
casual and comfortable atmosphere. Browse the menu for some of your old favorites and
instant classics, including fine wines and exciting new menu items.

IL Carpaccio

Starting with the Antipasti, through the Zuppe, Carne, Pesce ~~ whatever you order here is made from scratch with the freshest available products. Chef Eddy prepares everything served with the greatest of care and passion for taste and flavor and respect for Italian culture and tradition. The pizza is cooked in a Hard Wood Burning oven imported from Modena, Italy.
It's Greek to Me

Enjoy the unique taste of genuine Greek cuisine, from gyros to fried calamari to Souvlaki to baklava for dessert. Food at "It's Greek" is prepared by authentic Greek cooks using "only the best ingredients and equipment" including, we are told, the only gyro machines on Hilton Head Island.

The Jazz Corner

The Jazz Corner celebrates and preserves America's most distinctive sound – Jazz. Relax and enjoy an evening of great live music and perfectly prepared entrees while sharing a bottle of your favorite wine. Perfect night on the town on Hilton Head Island!

Kingfisher Seafood & Steak House

Great seafood, steaks, and pasta, with a commitment to quality food and excellent service. Located at Shelter Cove with magnificent water views. Entertainment nightly.

Kurama Japanese Restaurant & Sushi Bar

Kurama is Hilton Head Island's family-friendly restaurant that specializes in complete dinners prepared at your Teppanyaki table by well-trained Master Chefs. Kurama features a lively sushi bar, as well as a cocktail bar with TVs for those who enjoy watching sports while they dine.

Le Bistro Mediterranean
For casual dining with a Mediterranean flavor, come join Faisal and his excellent staff at Le Bistro. They have been serving locals and visitors delicious fare since 1988.Customers return again and again for Le Bistro's European ambiance, open kitchen, fresh daily specials and superb wine list.

Little Venice

Little Venice serves authentic Italian specialties overlooking Shelter Cove Harbour. Dine indoors or outside (protected by an awning), and watch the boats or people strolling around the harbour. The covered waterfront veranda is one of the most pleasant places to dine on the Island! Enjoy fresh "homemade" pasta, veal, chicken, beef or an excellent selection of fish and seafood entrees. Casual dress.

Mangiamo!

Mangiamo in Hilton Head Island specializes in Pizza, Pasta, Wings and Homemade Sauces. Mangiamo offers Dine-In, Take-Out and Delivery. Join them for happy hour or to catch your favorite team on one of our big screen TV's.
Market Street Café

Looking for a friendly place where the locals eat because the food is so good? The Market Street Cafe serves a tasty, eclectic blend of American and Mediterranean food, all at reasonable prices in a comfortable, casual, family friendly setting.

Marley's Island Grille

Marleys Island Grille Features a casual, upbeat fun tropical environment. They are passionate about serving only the freshest wood-fire grilled seafood and steaks in a casual tropical setting. Their full bar offers refreshing margaritas, house-made sangria and a tropical rainbow of frozen libations.

Mellow Mushroom

The Mellow Mushroom is an affordably priced, kid-friendly, fun and lively place very attractive to lots of folks! It specializes in pizza, calzones, hoagies, salads and other good things to eat! All pizza is made with spring water dough, prepared fresh every day, and lots of other healthy ingredients.

Michael Anthony's Cucina Italiana

Michael Anthony' s Cucina Italiana offers classic fine dining Italian cuisine prepared with a creative touch, presented with a contemporary flair and served in casual and comfortable warm surroundings. Delicious regional dishes are prepared with fresh ingredients and simple yet elegant sauces.
Old Fort Pub

The Old Fort Pub has been "highly recommended by USA Today and has been featured on Food Network for Best Southern Cuisine. The Pub is renowned for Chef Keith Josefiak's culinary excellence. Enjoy service excellence and cuisine with "new south" favorites and influences from around the globe while dining surrounded by windows and spectacular water views.

Old Oyster Factory
Situated on Broad Creek, the Old Oyster Factory is a delight for family and children of all ages. Enjoy superb, innovative seafood and steaks while taking in one of the Low Country's best panoramic views of the marshland landscape.
Palmetto Bay Sun Rise Café

Palmetto Bay Sunrise Café is a local favorite that offers breakfast and lunch with a view of Palmetto Bay Marina. Enjoy Pecan pancakes, shrimp hash, eggs benedict with crab cakes and a variety of other fresh made to order items. Palmetto Bay Sunrise Café is also pet friendly and your dog is welcome to join you!
Parrot Cove Grill

Casual water-oriented diningat Shelter Cove Harbour, offering the freshest ingredients, and a friendly, fun atmosphere. Very appealing menu offering an excellent selection of seafood, beef, chicken, pork, sandwiches, appetizers, "baskets" that come with fries and coleslaw, and more.
Red Fish

Red Fish specializes in cuisine where a blend of housemade spices, tropical fruits and vegetables are combined with Lowcountry specialties and we are committed to serving guests the freshest ingredients possible. The restaurant has an extensive wine list; and diners may also browse the on-site wine shop which boasts more than 1,000 bottles to choose from. Voted Best Wine Selection, Favorite Restaurant for Lunch, Best Burger and Favorite Caterer by the readers of Hilton Head Monthly Magazin

Robert Irvine's "eat!"

Owned by Food Network celebrity Chef, Robert Irvine's eat!, specializes in great American dishes... with a twist! From the friendly service and relaxing ambiance to creative cocktails and world-class cuisine, they welcome you to join them for a memorable dining experience in the chic, yet inviting atmosphere.
Roastfish and Cornbread

When you visit RoastFish and Cornbread, you're definitely in for a treat! Experience the best Southern and Caribbean dishes including, Sweet Potato Cornbread, Conch Fritters, Shrimp Gumbo, Authentic She-Crab Soup, BBQ Shrimp Po-Boy Sandwich, the Roasted Portobello Sandwich with Mango, Tomato and Avocado Chutney, Fresh and Local Vegetables of the Day and the Best Homemade Pies Around!

Ruan Thai Cuisine

Benruan Suphata (Ruan), a native of Thailand, cooks authentic Thai fare based upon the cuisine of central Thailand. It ranges from curries to seafood to duck. If you would like to tailor an item to your taste, or would like to request a Thai favorite not on the menu, Ruan is happy to respond if ingredients are available. She uses the "freshest ingredients available." Spices are freshly ground, limes are squeezed in house, and "everything is prepared from scratch." Portions are generous!

Salty Dog Café

Enjoy waterfront dining inside at Captain John's Galley where you can order from a full menu of seafood, salads and sandwiches, or enjoy a drink and lighter fare outside on the deck or at the outdoor bar. In season, the night echoes with the tropical sounds of live entertainment from either Dave Kimmerly or Bruce Chricton. Children's Entertainment & Kid's Activities keep the kids happy with activities, face painting, magicians and more! Don't miss FREE pictures with Jake the Salty Dog and his regular visits for family photos

San Miguel's Mexican Café

San Miguel's, directly on the harbour at Shelter Cove, has a long tradition of furnishing both Islanders and visitors with lots of good food and fun. Extensive California/Mexican menu. Live music nightly and a tiki bar on the deck serving up your favorite concoctions!

Santa Fe Café

Dine in the warmth of white washed adobe walls, fireplaces, vigas and Bancos. Its elegant yet casual, cozy atmosphere exudes a charming backdrop for the authentic yet innovative southwestern cuisine. Live Music Wednesday-Saturday.
Sea Shack

A local "made to order" kind of seafood restaurant. Casual and laid back popular Island restaurant featured on the Food Network. Fresh local seafood with no frills! Indoor seating and 3 large picnic tables outside. The Sea Shack does have a line in the summer time around dinner, and don't let the casual atmosphere fool you---this is good eatin' folks!

Signe's Heaven Bound Bakery & Café

Signe's Heaven Bound Bakery & Cafe has been a Hilton Head Island tradition for more than 36 years. Specializing in Southern Style baked goods, fresh and wholesome every day, beautifully intricate wedding cakes and family cafe dining inside and alfresco. Vacationers and islanders alike enjoy Signe's perfected breakfast recipes, savory salads and sandwiches and heavenly desserts.
Skillets Cafe

Skillets is an attractive cafe that prepares unique breakfasts, served in porcelain skillets, and comfort foods like homemade meatloaf, shepherd's pie, burgers, sandwiches and lighter fare such as a salad bar and seafood dishes. They also have a pet friendly patio that even has a doggy menu!

Skull Creek Boathouse

Located on the waterfront of Skull Creek, you'll enjoy beautiful views whether you choose to dine indoors on fresh seafood and American favorites with a twist, at the Dive Bar - a raw bar featuring fresh sushi, oysters and more - or dine outdoors on the terrace. The open-air Buoy Bar serves up colorful sunset views daily and the freshest original drinks.
Stellini Italian Restaurant

The Low Country's "Little Italy since 1989", Stellini's Italian Restaurant has been serving Islanders for over 2 decades. Menu items include the Veal Saltimbocca, Zuppa di Pesce, Lamb Shank Osso Buco, Filet Mignon, Clams Casino, Torrellini Carbonara and meat-based Lasagna among many other appetizers and entrees.

Street Meet American Take Out and Tavern

Street Meet is a family tavern and restaurant. Indoor/outdoor seating are available and dining at the bar is encouraged. The décor is a 1930's tavern and the cobblestone street it does business on. If you like good food and cold drinks in a family friendly environment, you will love Street Meet.
The Studio

The Studio restaurant and art gallery offers its patrons both fine cuisine and fine art. Chef/ Owner Paul Colella prepares innovative cuisine influenced by the cuisines of Asia, the Mediterranean, France, New Orleans and the American Southwest. Dinner is complemented by the ambiance of candlelight, and accompanied by the music of Armand DeMille, guitarist/vocalist. Most evenings, Lunonia Colella or another artist will be working on their latest creations at their easels.

Truffles Cafe

Casual cafe featuring the "freshest and finest of everything!" Fresh local seafood, Black Angus steaks, baby back ribs, homemade soups, fresh garden salads, delicious French bread sandwiches, gourmet pizza and excellent pasta. They also have excellent desserts, and offer a full bar and fine wines by the glass or by the bottle to compliment your dinner.


Are you a restaurant that would like to be added to this listing? Simply send us an email at info@enjoyhiltonhead.com today with a brief restaurant description, website and contact information, and we will be happy to add you to the list!