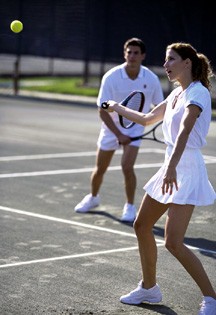 It's important not to neglect your health - even while on vacation. Like most
resort vacation destinations
, Hilton Head offers a variety of activities that can get your heart pumping while having fun in the Carolina sunshine!

When traveling, you don't always have healthy choices and, if you do, it's often difficult to make them! Our suggestion is to keep your meals as healthy as possible and be picky about splurges. Enjoy yourself and indulge in some fresh local seafood and get out and get moving with the tons of outdoor activities available on the Island.
With a little effort and planning, you can keep the healthy pace of your traditional routine going during your Island vacation, or have a little fun and try some new activities that Hilton Head Island offers!
Take advantage of these Island activities that will keep you moving without having to do your traditional "workout."
Walking or jogging on the beach
Beach volleyball
Swimming and water activities
Leisurely bike rides
Golf & Tennis
Nature Walks
Shopping (can be very aerobic under the right circumstances!)
If you do remain dedicated to your traditional workout routine, Hilton Head Island has a number of outstanding health clubs and fitness centers to choose from…and some even have an ocean or water view!
Hilton Head Island Fitness Centers
Beach City Health and Fitness
39 Hospital Center Commons
(843) 681-6161
Voted First Place in the Island Packet's Reader Choice Awards for 2011, Beach City Health & Fitness offers over 40 cardiovascular stations, BroadcastVision directly linked to Plasma Screen Televisions, Magnum strength and FreeMotion Fitness equipment, free weights, personal training, functional training, sports enhancement, and extensive health and fitness assessments systems and support programs. Visitors are welcome!
Breakthrough Fitness Center
130 Arrow Road
(843) 341-2166

Daily, weekly and monthly rates available for residents and guests of Hilton Head Island. The premier fitness club in the SC Low Country, Breakthrough Fitness Center is dedicated to offering the best training expertise and fitness equipment to its members and guests. They also have a complete Pilates training center and yoga fitness program.
Curves of Hilton Head
1012 William Hilton Pkwy., Ste. 5
(843) 785-2999

Curves provides you with a complete cardio and strength training workout in just 30 minutes. With a system that can burn up to 500 calories and work every major muscle group, you get an efficient and effective workout every visit.
Players Club Fitness Center
35 DeAllyon Avenue
(843) 785-3024
They have what you need to "mix it up" and stay motivated. Players Club Fitness Center has all the equipment you need to achieve your fitness goals. Enjoy the club facilities at your own pace, in a group, or with a personal trainer. Featuring the area's newest cardio equipment, indoor heated pool, aerobics, spin classes and more!
Power House Gym
1530 Fording Island Road
(843) 706-9700
Powerhouse Gym is distinguished by their unsurpassed motivating atmosphere, knowledgeable staff and premier exercise equipment, which supports members in meeting their individual fitness goals. They are dedicated to the highest quality of customer satisfaction delivered with a sense of friendliness, individual pride and company spirit. The strength of our heart-felt identity is utilized to inspire every person that steps foot into their gyms to better themselves.