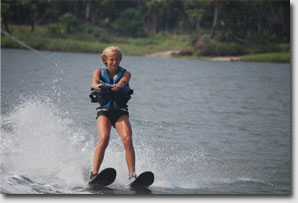 H2O Sports
Where fun and excitement meet the water!
Enjoy Hilton Head is proud to offer H2O Sports as a retail partner! H2O has the largest array of water activities on the Island. All activities require reservations, so call EnjoyHHI today and let our superior concierge staff make your reservations for you!
H2O SPORTS - PARASAIL
Rise above Hilton Head Island...
Get an eagle's eye view of the surrounding areas...
View up to 25 miles in all directions!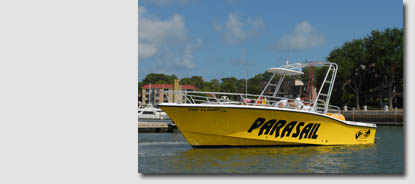 All of our staff is certified by the Professional Association of Parasail Operators to assure safety and knowledge. Landings are gentle and dry, and, depending on you.... it can be wet! Bring your favorite co-pilot to share the excitement.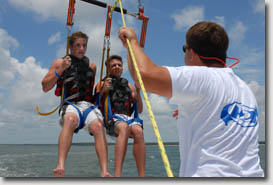 RATES

$65/person plus tax

800 Feet

$20/person (standby only)

Observer
Reservations are required.
H2O SPORTS - WATERSKI
We offer a 2 hour private charter which can accommodate up to 5 passengers. If some of those folks want to come along for the boat ride but aren't interested in skiing, that's OK. Our trips depart from Harbour Town Marina and we only have to travel about 1.5 miles across the Calibogue Sound to the calm, protected waters of Bull Creek. We are the island's closest operation to the ski area in Bull Creek, so you won't have to deal with any "No Wake Zones". Our captains are commercially licensed by the US Coast Guard and can also offer instruction and tips as needed for riders of all different levels. We'll provide all the equipment you'll need for waterskiing, wakeboarding and kneeboarding, so come on out with us for a pull or two.
Trip Times:
9:00 - 11:00
11:00 - 1:00
1:15 - 3:15
3:15 - 5:15
5:30 - 7:30
RATES

$275

2 Hour Trip
(5 person maximum)
Reservations are required.
H2O SPORTS - WAVE RUNNERS
Located on the Charter Pier under the Lighthouse in Harbour Town, H2O Waverunners are waiting for you! Experience the thrill of blasting off on brand new Yamaha Waverunners within Calibogue Sound. Depart from the worlds largest personal watercraft carrier vessel directly into the water without the hassle of a no wake zone. Your fun begins the minute you climb aboard!
Prior to your adventure, you will be given a safety briefing on the State and Local Personal Watercraft Regulations by a USCG Certified Captain. Then as you are taken out to the waverunners, your boundaries will be identified for your safety. Aboard the carrier, you will be instructed on the operation of a waverunner so you will be fully informed for your hour of fun! Please note, any age may drive but you MUST BE 18 YEARS OF AGE TO OPERATE A WAVERUNNER ALONE.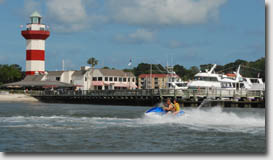 RATES

$95/hr plus tax

Single (300 lbs. max)

$105/hr plus tax

Double (300 lbs. max)

$115/hr plus tax

Triple (450 lbs. max)
Reservations are required.
Envirotours:
1 Hour Dolphin/ Nature Tour
Tour the Calibouge Sound aboard one of our hard bottom Zodiac Boats while observing Atlantic Bottlenose dolphins and other marine wildlife. $31 Adult, $24 Child
1 ½ Hour Sunset Tour
We extend our 1 hour trip to include a tour of the salt marshes and tidal creeks as the sun sets. The most spectacular time of the day in the Lowcountry. $41 Adult, $34 Child
2 Hour Beachcombing Trip
After observing the dolphins and other wildlife, the trip continues to a quiet stretch of the beach on nearby Daufuskie Island to hunt for seashells and sand dollars. $51 Adult, $44 Child
Daufuskie Island
Step back in time and enjoy one of our unique barrier islands. Tours, lunch and dinner available. Taxi Only: $50 Adult
H2O SPORTS - SAILING
Come aboard our captain charters and experience sailing at its finest on Hilton Head Island.
Sail Stiletto
Sail through Calibogue Sound on Stiletto, a 27 ft. catamaran. Watch Dolphins play while you lay on Stiletto's trampoline or enjoy beautiful sunsets and the low country scenery.
Sail SUMO
If you want exhilaration, hop aboard SUMO, a sleek 38 ft. trimaran. It will slice though the water as fast as the wind and take you on a sailing experience unlike any other.
Sail Flick
If you are an experienced sailor, you can rent our 22' Catalina Capri and explore the local waters on your own.
Lessons
Our USCG captains can give lessons aboard any vessel and get you starting in the exciting sport of sailing.
All three vessels carry up to six passengers to ensure an intimate sailing experience.
1 1/2 HOUR DAY RATES

2 HOUR SUNSET RATES

Stilletto*

$39 / Person

$49 / Person

Sumo*

$59 / Person

$69 / Person

Flick

$75 / Hour

$75 / Hour
* Three person minimum or equivalent fare.
Both vessels carry up to six passengers to ensure an intimate sailing experience.
So whether you want to relax.
Have fun.
Go Fast.
Or learn.
Come aboard and
LETS GO SAILING
If you questions, please call enjoy hilton head.
Reservations are required.
H2O SPORTS - SUNSET BEACH KAYAKS
KAYAK WHERE THE DOLPHINS PLAY
Kayak with the dolphins in the calm waters of Calibogue Sound and Broad Creek. We may also see egrets, herons, osprey, bald eagles, river otters and manatees as we paddle.
No experience is necessary for adults and children to enjoy this one and a half hour guided tour in the natural surroundings of dolphins and other wildlife. Our single and double kayaks are stable and easy to paddle. A paddling clinic is included with each tour and we'll provide life jackets and paddles. A USCG licensed master captain with over fifteen years of experience on local waters and guided tours.
Kayaks are also available for rent. For fun, memorable experience come see Harbor Town and our beautiful waters from a kayak. Awesome Sunset Tours available - Call 1- 877- 290- 4FUN (4386) for times and rates.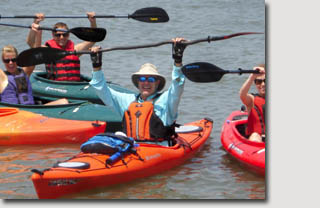 TOUR RATES

1 1/2 Guided Tour

Adults - $35

1 1/2 Guided Tour

Children 12 & Under - $25
KIDS / TEEN CAMP

1 1/2 - $35
RENTAL RATES

Single Kayak

$15 per Hour

Double Kayak

$20 per Hour
Reservations are required.
Powerboats:
Harbour Town Power Boat Rentals offers brand new 20-foot center consoles, as well as, 20-foot deckboats from two to ten hours. We are the only company to offer "Total Freedom" and GPS-guided adventures.

Embark from Harbour Town on a unique journey into Calibogue Sound, teaming with dolphins, sea otters and a wide variety of water birds. Your charted course takes you through the Calibogue and up Broad Creek to view Hilton Head Island's most popular sites.

From the elegant homes along Bram Point, to Daufuskie Island restaurants, to the pristine estuaries of South Carolina's Low Country, our GPS guidance systems will help navigate you to local points of interest on the water and safely back to our docks.